The 30 Best Educational Apps for School
Since we are in the middle of this unprecedented pandemic, school looks a little different this year. Thankfully, with modern technology, kids can stay on track with their studies even from home. 2020 has seen the rise of a plethora of new and existing educational apps for school. We'll review some of the top school helping apps below. You can get these best educational apps from the iPhone or Android app store.
GPS tracking logs, movement alerts and other notifications all help you keep an eye on your precious little ones when you can't be there with them. Start using the Find My Kids app right now!
Contents:
Apps for Virtual Learning
While a mobile app can never take the place of a teacher, today's school systems are finding plenty of creative ways to stay connected.
Zoom
2020 has been the year of Zoom meetings, Zoom parties, Zoom classes and more! There is a reason this popular video-chatting app has become the top pick for teachers everywhere. Schools doing virtual learning or combo learning with in-person students learning alongside at-home students are signing up on Zoom in droves. Group video chats are made easy with this simple and easy to use a free platform. Paid packages are also available.
Flipgrid
Used by teachers and schools across all grade levels, Flipgrid is a fun and innovative way to facilitate class discussion and the sharing of opinions. Educators pose a question or post a topic, and students respond with their own video message. Kids can also scroll through their classmates' answers, fostering a sense of community even when learning virtually.
Google Classroom
Quickly becoming one of the most popular virtual learning platforms with school districts around the world, Google Classroom offers all the tools teachers need to facilitate distance learning of all ages and grade levels.
Apps for Homeschooling
Deciding to take the plunge and educate on your own this year? You aren't alone – and there are a variety of apps that can help! And if your kids have spent any time in the public school system, they probably already know many of the apps highlighted below.
BrainPOP
This popular app that is used by many schools nationwide is a great choice for homeschooling families as well. Students can learn information from a variety of subjects in small video snippets that are developmentally appropriate for their grade. Interactive elements also include unit studies, quizzes and games. Brain Pop Jr. is designed for students in grades K-3 and Brain Pop is best suited for grades 4-8. From the periodic table to the color wheel, this educational app has everything you need to teach kids the basics.
Epic
Another popular app with schools that parents are discovering for at-home learning is Epic. This reading app offers students the option to read independently, listen to a story, or follow along. This award-winning app has been around for several years and offers daily age and reading-level appropriate recommendations customized to your child's interests. Parents can track their child's progress and time spent reading.
ABC Mouse
Enjoying a long tradition as a popular app in preschools and elementary schools across the country, toddlers and younger kids love ABC Mouse! Your little learners can learn through play with a variety of interactive games and activities across all subject matters. The age range that is best served with this app is ages 2-8.
Duolingo
This free app has become the most popular way for language learners of all ages to develop fluency in a foreign language. Millions of students around the world are learning more than 38 languages. This app's interactive gameplay method of teaching is both fun and effective. Duolingo is a great supplement to any homeschool education.
Quizlet
Used by learners of all ages, this flashcard app helps children study, practice and memorize what they are learning. Users can create their own flashcards or access study materials created by other students. Parents and teachers can create flashcard decks and quizzes for their kids to study.
PBS KIDS
This popular app suite offers free educational games and videos for children ages 2-8. Parents who are homeschooling preschool and younger elementary grades will enjoy these award-winning apps that help kids learn. Families can access full episodes of PBS KIDS television shows for free with no subscription required, and more than 100 fun games reinforce learning concepts from the shows' popular characters.
Khan Academy Kids
Khan Academy Kids is a very popular took for parents homeschooling preschool and kindergarten. This award-winning app also features include teacher tools, weekly planners, printables and more! Hundreds of free books, activities and videos teach kids ages 2 through 7 how to read, play and learn.
Apps for Parents & Teachers
Classroom management apps and parent/teacher communication apps are more important than ever this year. Many of the best classroom apps allow students and teachers to submit assignments and comments in real-time.
Seesaw
Teachers can manage their classroom, create and distribute assignments, engage in parent communication and more with this learning app. Parents can sign up for a Seesaw family account to stay on top of what their child is learning in class. Many schools are using Seesaw for their classroom management this year. Virtual learners and in-person learners alike can use Seesaw individually or side-by-side, making Seesaw the perfect pick for classroom management this school year.
Schoology
In addition to Seesaw, this is another app that is very popular this year for classroom management and parent communication. Just like with Seesaw, users of Schoology can access their work and grades. It integrates with more than 200 other educational tools and platforms, making it extremely popular with teachers and school districts around the world. Teachers can collaborate with other school staff members and communicate with students and their parents all within the Schoology platform.
ClassDojo
This teacher-parent communication platform is also fun for kids! Teachers and parents can assign points for a variety of positive behaviors and students can customize their own virtual monster avatar. Students can also create and share digital portfolios, and teachers can share photos, videos or announcements with parents.
Remind
Remind has quickly become one of the top apps for parent communication and sending out school news. This simple platform allows for quick and easy communication without all the fluff. Teachers can send photos, class assignments and announcements to their entire class, a single parent or a custom group.
Google Docs
With Google Docs, teachers can make slideshows, create parent forms such as reading logs, send text documents, videos, spreadsheets and more. All types of documents can be created and shared without any cost and accessed from multiple devices and platforms. In addition, multiple people can collaborate on the same document. All of these features make Google Docs ideal for any type of school activity.
Find My Kids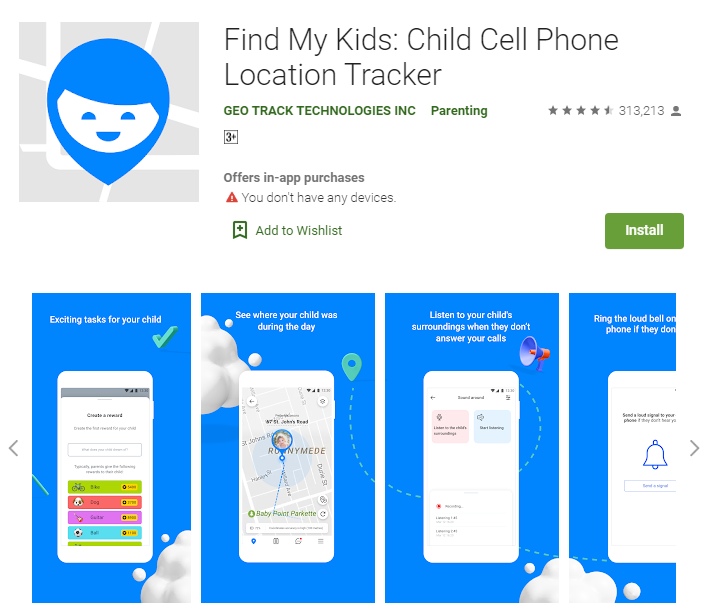 Never before has the thought of sending your kids off to school felt so intimidating. With the Find My Kids app, you can make sure your children are where they are supposed to be. Best of all, if your child is not picking up the phone, you can activate a special background listening feature to hear what is going on around them.
GPS tracking logs, movement alerts and other notifications all help you keep an eye on your precious little ones when you can't be there with them. Start using the Find My Kids app right now!
Dropbox
Teachers can backup, store, sync and share documents and files of all types and sizes with a free Dropbox account. Important files can be password-protected, and files can even be accessed offline when needed. Sending large files is now a breeze with the Dropbox app.
Apps for Classroom Learning
Teachers looking to keep kids engaged and learning in the classroom often employ these popular educational apps during rotations and technology time.
Kahoot!
Kids of all ages and even adults love this fun game that fosters learning and classroom engagement. Teachers can design their own live, interactive trivia or quiz game to be played together as a class in real-time. In addition, students can practice or study on their own time with flashcards and practice mode.
Prodigy
Played by many students across the U.S. on tablets and Chromebooks, Prodigy Math is often used in classroom math rotations. Students can take the fun home with the Prodigy Math app. Users can create their own characters, play math games, and interact with classmates in real-time gameplay.
Freckle
Although not currently compatible with smartphones, Freckle is used in many school classrooms on tablets and Chromebooks. Freckle features games and activities for all grade levels across a variety of subjects including Math, English, Language Arts, Science and Social Studies. Specially designed for classrooms and teachers, Freckle can generate detailed student progress reports and lesson plans conform to current public school educational standards.
ABCya
This teacher-created app features more than 400 games aligned to Common Core standards for students in PreK through 6th grade. Subject areas include Math, Science, ELA, Social Studies, Art and Music. Used in many schools across the U.S., students can also access and play fun educational games from home for free.
TumbleBooks
As an interactive reading platform that is popular in many classrooms, a subscription to TumbleBooks is often purchased by a school or district for students to access on campus. Ideal for independent reading stations, students can listen to TumbleBooks read-alongs or read at their own pace. The app features a collection of the most popular current books for students of all ages and reading levels. School subscriptions also include a variety of lesson plans, games and quizzes as well as a K-5 English Common Core Portal with resources aligned to core standards.
Apps for High School & College Students
A variety of study apps, time management apps, note-taking apps, and classroom communication apps are developed specifically for college or high school students to manage their studies. Below are some of the essentials.
Canvas Students
Along with the corresponding Canvas Teachers and Canvas Parents app, Canvas Student is a popular classroom management app for older students. Simple and organized, this app facilitates effective virtual learning through a basic and intuitive platform. Students can access course content, submit assignments, view their grades, organize their coursework, message with their teachers, post to discussion boards, watch videos and even take tests and quizzes.
Brightspace Pulse
Another classroom management app especially popular with college campuses, the Pulse app is compatible with all students taking D2L / Brightspace courses online. Online students will never miss an update with this convenient learning platform.
SimpleMind
With this fun app, students can create their own mind maps to help with brainstorming and idea organization. Reviewers find the platform easy to use and intuitive, with plenty of free-form tools to work a solution the way you want it to. Best of all, SimpleMind is a free app.
StudyBlue
Popular for its large database of educational materials, StudyBlue is a crowdsourced resource library featuring information from millions of students around the world. Flashcards and quizzes can be created, studied and shared with this fun app. Create your own or learn from other students and teachers. Teachers can create special study materials designated for their own students as well.
Evernote
Keep track of all your notes in one place with this popular note-taking app. Evernote has been around for decades and can sync to all of your devices including your computer. Notes can include text, photos, sketches, videos and more. They can then be organized, searched, edited and even archived. Different notebooks can help separate notes from school and work. This free app also helps students with organization and project management.
Forest
Through a fun method of growing a virtual forest, this unique time management app helps students and individuals of all ages be more productive and stay focused. Students simply set a timer for focusing on the task at hand, such as studying, and a tree begins growing. Best of all, the app penalizes players for wasting time on distracting activities such as social media. It may sound silly, but thousands of reviewers say – it works!
My Study Life
This app for students is like a digital version of a student planner. This comprehensive app allows students to track their classes, projects, assignments and homework all in one place. The app can sync all your data between multiple devices and will send you reminders of upcoming tests and other important due dates. Tasks can be arranged by order of importance or by date. Never fall behind again with My Study Life!
Final Thoughts
While this school year may look different than most, technology helps us to connect with each other in new ways, explore new ways of learning, and foster creativity. All of the apps for students and teachers listed above are easily accessible on both Android and iOS devices, and many of them are free.
Do you have a favorite education app not featured above? Let us know in the comments below!
Получите чек-лист подготовки к школе на свою почту
Письмо отправлено!
Проверьте электронный ящик