Guide to the Best Children's GPS Watches for 2020
Kids smart watch are the perfect way to not only be in constant contact with your child, but to give yourself peace of mind. There are hundreds of GPS watches out there suited for children. They have varying functions, purposes and features. So it is by no means an easy task determining which is best for you.
Contents
Allow us to make things a bit easier on your end as we walk you through the types of smartphone watches available and what features you should pay attention to when choosing a watch for your children. In this day & age, choosing a Kids Smart Watch for your children is simply a part of life. Read our reviews of the Best GPS Watches for kids to buy in 2020!
GPS Tracking
As a parent, our biggest fear is losing our children. The panic that runs through you as you begin to realize you have no idea where your baby is. This is a nightmare no parent wants to experience. Luckily, there are watches available that are equipped with GPS for kids. This allows you to track your child in real-time. All you have to do is download an app like Find My Kids and connect it to your child's smartwatch. With fast and reliable global positioning, you never have to question where your child is. Some apps may even allow geofencing.
Meaning, you can set geographical boundaries and anytime your child crosses that boundary, you'll receive an instant alert.
SOS Alerts
SOS capabilities may be one of the most important features of a smartphone watch. Should your child find themselves in a dangerous situation, they can push or hold a button that will send out an emergency alert to your phone (via the app) and will ring 3 or more programmed lines continuously until the call is answered. The peace of mind that the SOS alert brings is priceless and is absolutely necessary. Be sure to search for this feature in the watch of your choice.
Two-way Calling
Say what you want, but two-way calling isn't a prerequisite. In actuality, not all smartwatches are equipped with two-way calling. This allows your child to call you and various other programmed numbers as well as receive calls from those same numbers.
You will need to purchase a SIM card in most cases and subscribe to a mobile plan. Most parents choose "SpeedTalk" by T-Mobile as it works in almost any country.
Camera
Having a camera on a kid's smartwatch is for entertainment purposes only. It has no safety benefits whatsoever. Nonetheless, children will enjoy having a camera to play with.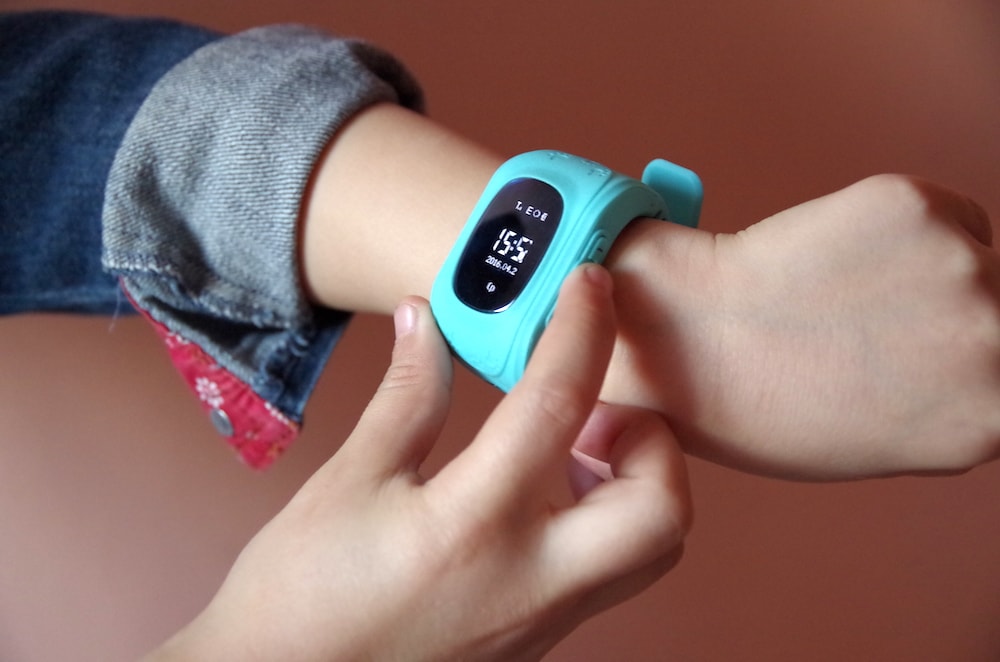 Waterproof
While safety is paramount, you also want a watch that can withstand heavy usage and possible damage, especially water damage.
So when choosing a watch for your child, look for a watch that has a reasonable rating of IP67 or higher.
Tech Specs

Don't forget to check the specifications of each device.
You want your watch to have a good battery capacity. Between 400 and 500 mAH is reasonable, higher is even better.
You'll also want a reasonable amount of storage space (any device with more than 2GBs of RAM), and a good operating system.
Special Features
Some watches have bonus features like games, in-class mode, and even a flashlight. Of course, these features aren't necessary, but they are certainly fun!
Below is a table that sorts the above information for your convenience.
Types of Watches
Functions
Main Features
Waterproof Watches
Waterproofing to combat heavy usage
Watches with a camera
Camera for entertainment

HD camera
Storage for saved images

Watches with emphasis on safety
Focuses on keeping your child safe through important features

GPS Tracking
Geofencing
SOS Alerts

Expensive watches
Provides safety features and fun extras

GPS Tracking
Geofencing
SOS Alerts
Camera
Waterproof
Games

Watches on a budget
Provide basic features to minimize costs
After analyzing these specifications, we've chosen the best watches for the job! Here are the best watches that you may want to consider.
High Quality Brands Gadgets
Best: Find My Kids Watches
Overview: The FindMyKids watch is a very sophisticated yet simple device that makes entertaining children while giving parents peace of mind a breeze. These waterproof watches (with or without a camera). Every purchase comes with a free family license plan. With a battery capacity of 650 mAH, that makes FindMyKids the strongest and longest-lasting smartphone watch on our list. That's up to 100 hours on standby! Parents also have the ability to listen in on their children's surroundings without disturbing the child. Integrated with the FindMyKids app, Parents remain in complete control of their little one.
For Ages: 3-12 years old
Pros:
Waterproof
Longest lasting battery
Free family license
Good price
Cons:
Lowest Price: $79.00
Buy it here and see how these cool features work in this video.
The Verizon Gizmo Watch
Overview: The Verizon Gizmowatch is a very high-tech watch that claims to prepare your child for their first smartphone. With 4 Gigs of memory and a battery capacity of 510mAH, you can already tell how advanced this watch is. Using Verizon's 4G LTE network, two-way calling is easy. It's surprisingly durable and is waterproof with a rating of IPX7. Parents can easily connect to the GizmoHub app available for Android and iOS. Thanks to the GPS locator, parents can also easily keep track of their children and even set GPS boundaries.
For Ages: 8-17 years old
Pros:
Reliable Verizon Network
Long lasting battery
Waterproof
GPS tracking and boundary setting
Cons:
No SIM card included
No games
Limited features
Lowest Price: $179.99
Learn more about the watch here and watch this quick video on how it works. Available on Amazon.

dokiPal (DokiWatch S)
Overview: The DokiWatch S is a high-end children's smartphone watch. There are so many features, it's hard to keep up with them all. However, the best features include VoIP calling, GPS Tracking, geofencing, text messaging, and SOS alerts. The greatest feature of all is its ability to withstand video calling. With 3G connectivity on an Android operating system, the DokiWatch is very reliable. A SIM card is required but not provided. The DokiWatch can also hold a charge for up to 24 hours on normal usage.
For Ages: 5-15 years old
Pros:
Video calling enabled
GPS tracking and geofencing
Long lasting battery
Cons:
SIM card not included
No games
Lowest Price: $179.00
Watch this video about the watch. Available on Amazon.

TickTalk Smart Watch with GPS Tracker
Overview: The Tick Talk SmartWatch is a basic phone watch that allows you to make calls, receive text messages, and works as a GPS locator. There isn't much involved with this watch and does not have many features, but its simplicity allows for the watch to be a nice choice for parents who don't want bells and whistles. With a SIM card included, you can connect with a T-Mobile plan and use two-way calling easily.
For Ages: 3-12 years old.
Pros:
Basic features
GPS Locator
SIM card included
Cons:
Not waterproof
One-way text messaging only
No Camera
Lowest Price: $129.99
Check out the watch here and see more in this video. Available on Amazon.

Honorable Mentions
There are a few expensive gadgets that didn't quite make our list but are worthy of mentioning.
The MyKi Kids Watch and GPS Tracker is a sophisticated watch with several fine features, however, it has been known to malfunction.
Omate x Nanoblock, on the other hand, was blacklisted by parents due to the possibility of hacking and location spoofing. The watch itself is full of cool features and easy to use, but the risk of privacy invasion may be too great.
The HereO Smartwatch is also an honorable mention. While it doesn't claim to have privacy risks, it isn't perfect. With complexity issues and GPS lagging, HereO is only a moderately good option.
Best Kids SmartWatches Under $50
The following watches are readily available on Amazon, or on other similar sites under varying names, and are very affordable at under $50 each. Because of their low price points and obtainability, you can easily own one of these great gadgets for your child.
SmartWatches with Camera
Best: Owl Cole Smartphone Watch
Overview: The Owl Cole Smartphone Watch is a simple watch that provides the best of the basics. Equipped with a camera, GPS tracker, and two-way calling, the Owl Cole 3G GPS is a great watch for children. It even has a long lasting battery (550 mAH) and is waterproof; everything a child needs to use their watch for years to come.
Although a SIM card needs to be purchased (to be used with SpeedTalk by T-Mobile), the watch pays for itself with its safety features. Compatible with iOS and Android, parents remain in control and in the know.
These watches are compatible with the FindMyKids app which ensures safety and reliability.
For Ages: 5-13 years old
Pros:
Sophisticated and sleek design
Waterproof
550 mAH battery capacity and standby time of three days
Playable math game2
Cons:
SIM card not included
Only works in the Americas
Lowest Price: $30.99
You can see the watch and its features here. Available on Amazon.
GreaSmart Pedometer and SmartWatch (G100)
Overview: The G100 Smartwatch is a waterproof, GPS safety tracking phone watch for kids that comes equipped with a waterproof screen, HD camera, voice chatting app, two way calling and more. It has a battery capacity of 400 mAH and comes with a USB charging cable. While you typically must purchase a SIM card separately, there is a package available (follow the link below) that includes a SIM card for free. The phone runs on a cellular network and they recommend you purchase a phone plan with SpeedTalk Mobile.
For Ages: 8 and under
Pros:
Has voice chat app
Waterproof
SOS Emergency Alarm
Flashlight
Cons:
No anti-disturb mode for in class
Lowest Price: $42.99
You can find it on Amazon here, and feel free to watch this video.
These watches are compatible with the FindMyKids app which ensures safety and reliability.
GBD Kids SmartWatch (G10)
Overview: The G10 Smartwatch is a sophisticated watch for kids. Having its own music player, games, calculator, and camera makes this teched-out watch special. It runs on a cellular network (SpeedTalk) and comes with a free SIM card, making two-way calling a breeze. It has a battery capacity of 480 mAH and a standby time of three to five days.
These watches are compatible with the FindMyKids app which ensures safety and reliability.
For Ages: 3-14 years old
Pros:
Has music player
7 puzzle games on watch
Unlocked to be used globally
Can be used without a SIM card as a gaming/music watch
Cons:
Lowest Price: $39.98
Vtech Kidizoom Smartwatch
Overview: This Vtech smartwatch is a good choice for educational fun. Meant to be used more as a toy than a tool, kids can wear one on their wrists and play fun learning games. It has a standby time of two to three days. However, given the amount of usage your child is sure to dish out, you can expect the battery to last for no more than a day before it needs to be charged.
For Ages: 4-12 years old
Pros:
Tons of games
Waterproof
Good camera
Cons:
No two-way calling
Short standby time
No GPS tracking
Lowest Price: $47.99
Find out more here and watch their video here. Look at Amazon
Waterproof Watches
Best: iCooLive Waterproof GPS Tracker
Overview: Not disappointing when it comes to fun and games, iCoolive also delivers on functionality. An easy to use, waterproof watch with GPS and camera, this watch keeps things simple. It is a wonderful device, however, it fails to stand out from the rest of the crowd. Luckily, parents can remain in control with the iOS and Android app.
For Ages: 4-13 years old
Pros:
High Definition Camera
Waterproof (IP67 rating)
Easy set-up and overall use
Cons:
Very basic and common
SIM not included
Lowest Price: $46.99
Available on Amazon. And see how it works.

These watches are compatible with the FindMyKids app which ensures safety and reliability.
Synmila Waterproof Smart GPS Watch
Overview: With a 400 mAH battery capacity and 3 to 4 hours of talk time, the Synmila is a fun watch for kids. Overflowing with numerous apps, it still remains purposeful when it comes to child safety. It handles GPS tracking easily and allows parents to use an app to keep control. It requires a SIM card but does not provide one.
This watch is compatible with the FindMyKids app which ensures safety and reliability.
For Ages: 3-12 years old
Pros:
Waterproof (IP67 rating)

Many educational apps

Flashlight

Good Battery Capacity

Camera
Cons:
SIM not included

Possible discomfort due to sidelong camera
Lowest Price: $45.99
The Simpliest Watch
Smart Baby Watch Q50 by TKSTAR or Themoemoe
Overview: Nothing gets more simple than the Q50 Kids GPS Smartphone watch tracker. Getting right down to its core function, this watch is made specifically for parents and children to stay connected. Equipped with easy two-way calling via SIM card (required, not provided), as well as GPS tracking and historical recall, Q50 gives you the right price for the right device. It has a standby time of 2-3 days and is built to last.
For Ages: 3-15 years old
Pros:
Simple
Two-way calling
Reasonably inexpensive
Cons:
No camera or games
SIM not included
Lowest Price: $20.99 on Amazon.com, but these watches are compatible with the FindMyKids app which ensures safety and reliability. You can also buy it in our Find My Kids store with Family license FOR FREE and that guarantee quality and safety.
Learn more here and see how it works here.

FAQ
⏩Are GPS watches safe to wear?
Wearing a GPS watch is not likely to be harmful to a child's body. But you should worry about data privacy: stay away from the unknown or generic brands.
⏩Does GPS tracking require data plan?
If you're using a GPS watch to track your kid you will also need a cellular plan.
⏩How much data does a kids GPS watch use?
The average use ranges between 20-40 MBs of data per month.
Round-Up
SmartWatches for Kids
Unique Features
Price
Owl Cole 3G Smartphone Watch

Camera
Waterproof
Sleek design

$80.89
Synmila Kid Smartwatch 

Dozens of educational apps
Flashlight

$34.99
FindMyKids Watch

Sophisticated
650 mAH battery capacity
Free family license

$79.00
Smart Baby Watch Q50

Simplified for kids
Historical location recall
Very inexpensive

$20.99
There's no doubt that smartphone watches can lay a very important role in the lives of parents and children alike. In today's world, you can't be too careful.
Such is the case with a nine-year-old boy from Utah. With the help of his smartwatch, nine-year-old Aiden escaped the truck of a would-be kidnapper and used the SOS alert feature to call his stepfather for help. After his son was safely back home, Aiden's step-dad urged all parents to buy smartwatches for their children. He said he was glad that his family bought one for Aiden and that Aiden kept it charged.
Cases like these aren't extremely rare. Any child can be in potential danger at any given moment. Equipping them with the right devices to save themselves is the most important thing we can do. One woman claims that buying her ten-year-old daughter a smartwatch is one of the smartest decisions she's made, as her daughter often walks home from school alone.
We asked a Southern California woman about her experience with giving her child a smartwatch.
"I bought a SmartWatch with GPS Tracking for my daughter when she went on a school trip. I was able to check in on her at any moment and it completely relieved my worries seeing and knowing she was safe and sound," she said. She explained that even though her daughter was chaperoned, it didn't compare to ensuring her daughter's safety for herself.
It's important for us to remember that safety is never guaranteed. If we want to provide our children with the best chance of survival, buying a device like a smartwatch may be the best first step.
So when it comes to finally deciding which device is perfect for your family, keep several things in mind…
Does it have GPS tracking?

GPS tracking is the most important feature of a smartwatch. Don't waste your money on a device that is not equipped with it. The FindMyKids app is the best way to keep track of your children. So do yourself a favor; purchase a device with GPS tracking and connect it to FindMyKids and never worry about where they are again.

Is it affordable?

You'll want to purchase a device that is reasonably priced. If it has tons of features, it should cost a bit more. But no one wants to shell out hundreds of dollars for a smartwatch that has basic functions. Compare prices and devices and choose which one puts your wallet and conscience at ease.

Is SOS Alerts available?

Another important safety feature, SOS alerting will let you know if your child is ever in any danger. It's better to know than to constantly worry. Be sure this feature is present. You won't regret it.

Do I need extra features?

Extra features include a camera, games, flashlights, do-not-disturb, etc. You may feel as if they are not necessary. Or you may want your child to have a bit of fun with their device. The choice is yours.
Answering these questions will help you make a final decision on which device to get your child. We suggest taking a close look at the watches marked "Best". These watches are compatible with the FindMyKids app which ensures safety and reliability.
With FindMyKids receiving a KidsSafe certification, you can rest assure that they meet the standards of online safety and privacy. These two watches offer the best features at reasonable prices. So if you want to keep your child safe, give them the gift of a smartwatch and never worry again.